I ask you to be proud of your son ...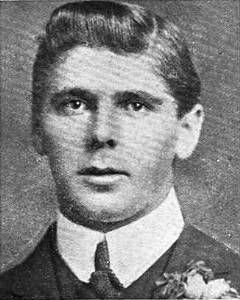 Otto HAHN
8 May 2014:
My thoughts today are for Serjeant Otto Louis HAHN 6/830
Canterbury Infantry Battalion, 13th (North Canterbury and Westland) Company
Killed in Action, aged 24, 99 years ago - 8 May 1915, Dardanelles
He has no grave and is memorialised on the TWELVE TREE COPSE (NEW ZEALAND) MEMORIAL, Turkey, Panel Number: 15. 2. 2.

(Update 2015: and which I was so very very lucky to get to visit this year - when my partner and I spent 2 weeks in Turkey including 100th commemoration service at Anzac Cove).
Born 2 October 1891, Oxford, North Canterbury, to Augusta and Louis HAHN.
Blue eyed, fair haired Otto was employed as a butcher at J Fitzgibbon, Rangiora at the time of enlistment and was engaged to Evelyn Alice TYLER at the time of his death - sister of Charles William Tyler who eventually became the Mayor of Rangiora, North Canterbury 1936-61.
Training in New Zealand from 14 August until 15 October 1914 he then embarked for overseas on 15 October and arrived in Egypt on 4 December 1914. He was promoted to Sergeant 3 days before dying.

A letter was sent to Otto's parents by Sergeant-Major J. W. Langridge, regarding the manner of his death, stated:
"On May 8 we were attacking a Turkish position and in the

final charge poor Otto was hit so badly that he died instantly. His courage was splendid and I would like you to take comfort in the thought that he suffered absolutely no pain, and was not disfigured in any way. Otto was a true soldier, and there are many heavy hearts amongst his comrades for he had the admiration of all of us. My own

brother

was killed with him, and we buried them almost side by side in a spot which will never be disturbed. l am proud of my brother, I ask you to be proud of your son."
Otto was the first cousin 4x removed of my children and first cousin 5x removed of my grandchildren.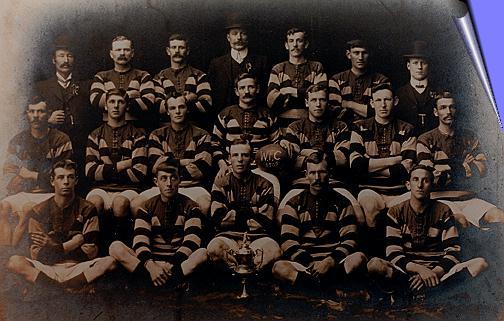 Otto [centre row second from left] - Woodend 1908 Rugby team



BACK ROW

Mr M. FLEMING - Club Captain; C. MOODY - 12st 7 lbs; C. B. MOODY - 11st 13lbs; Mr J. BUNTING - Line Umpire; R. DENCH - 11st 6lbs; T. FLUTEY - 14 st; Mr G. GREEN - Coach.

CENTRE ROW
Harry MOODY - 11st 5lbs; Otto HAHN - 11st 3lbs; J. ZUPPICICH - 11st 8lbs; H. HAWKINS (Capt.) - 11st 12lbs; E. CHAMBERS - 13st 6lbs; R. ARCHER - 11st 6lbs; A. SHEPPARD - 11st;
FRONT ROW
D. INNES (Sub Capt.) - 11st 5lbs; A. WARD - 11st 7lbs; J. SHEPPARD - 10st 2lbs; H.L.D. MOODY - 11st 12lbs; J. DENCH - 10st 12 lbs
Points for: 93 ~ Against: 3



30 October 2016 - a bit more information on Otto


The well-known butcher's assistant at Fitzgibbons in Rangiora, Otto Hahn, had been farewelled off to war after just a year in the local fire brigade and three years with the local brass band.

News of his death came in June 1915, killed in action at the Dardanelles aged 24 three days after being promoted to Sergeant.

A month later the death was announced of a second firefighter from Rangiora, Sapper Martin Strong, who was killed at Anzac Cove. Their deaths prompted the brigade to erect a Roll of Honour."

Sourced:

http://www.ufba.org.nz/news/firefighters_at_gallipoli


Copyright 2014-2022 ©MagnaQuies.com All Rights Reserved
This site is under construction. For contact details see www.sarndra.com